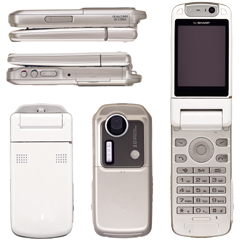 Note: Design and specifications are subject to change without prior notice.
Additional Software
Drivers
User guide
Specifications
Camera: 2 Megapixel, CCD Camera, with 20 stage digital zoom, mobile light and delay timer.
Display: Ultra-high resolution QVGA 240x320 dot, 262k-colour 2.4 inch QVGA TFT LCD.
Sound: 64 chord polyphonic stereo ring tones.
Style: Sleek lines, stunning form factor with a 180 degree Swivel LCD
Bluetooth®: Support for File Transfer from PC or Bluetooth® Mobile, Headset, Hands-Free, Dial Up Networking andObject Push
Other features: USB And IrDA CompatibleTri-band. SD Memory Card, Video Out function


| | |
| --- | --- |
| Band | 3G (UMTS) / GSM (900/1800/1900MHz) |
| 2 Megapixel CCD Digital Camera | ○ |
| Auto Focus and Optical Zoom | ○ |
| 262k colour QVGA TFT LCD | ○ |
| Video Out function | ○ |
| MP3 Player | ○ |
| MPEG-4 | ○ |
| SD Memory Card | ○ |
| Stereo speakers and bundled stereo headphones | ○ |
| Bluetooth® V1.1 | ○ |
| USB/IrDA Compatible | ○ |
| WAP, MMS & GPRS | ○ |
| Built-in Flash/Mobile Light | ○ |
| Java™ Applications | ○ |
| 8MB for Data Folder | ○ |
| Internal Antenna | ○ |
| Weight | 149g |
| Size | 50 x 102 x 26mm |
Accessories

XN-1AT90
External Antenna Cable


Length: 500mm

Includes:




Manual


XN-1BT90
Lithium-Ion Spare Battery
Lithium-Ion Battery
Capacity: 870mAh
Size: 37.5 (W) x44.7 (D) x5.8 (H) mm



Includes:


Caution Sheet
Soft case

XN-1CH91
Car Holder
Size: 58 (W) x132 (D) x31.5 (H) mm
Input / Output: DC5.2V 500mA

Includes:




Operation Manual


XN-1CL30
Cigarette Lighter Charger
Battery charger from cigar lighter in car
Input: 12V/24V
Output: 5.2V 500mA
Weight: 115g



Includes:




Manual


XN-1DC30
USB Data Cable
Modem cable for mobile phone
Length: 800mm
Interface for PC: USB

Includes:




Manual


XN-1HS90
Stereo Headset


Length: 900mm





Note: You cannot use this optional accessory "XN-1HS90" independently.You also need "XN-1HU90" to use the stereo headset.


XN-1HU90
Handsfree Microphone Unit


Length: 750mm


XN-1QC30
AC Charger
3Pin (UK Plug)
Input: 110-240V 50/60Hz, 105mA 6.5W
Output: 5.2V 500mA


Includes:




N/A


XN-1QC31
AC Charger
2Pin (Euro Plug)
Input: 110-240V 50/60Hz, 105mA 6.5W
Output: 5.2V 500mA


Includes:




N/A


XN-1QC32
AC Charger
2Pin (Ocean Plug)
Input: 110-240V 50/60Hz, 105mA 6.5W
Output: 5.2V 500mA


Includes:




N/A


XN-1VC90
Video Cable


Length: 2500mm

Includes:




Caution Sheet
Note: Optional accessories may differ depending on the region.
SAR Information
Your Sharp mobile phone has been designed, manufactured and tested so as not to exceed the limits for exposure to electromagnetic fields recommended by the Council of the European Union. These limits are part of comprehensive guidelines developed by independent scientific organisations. The guidelines include a substantial safety margin designed to assure the safety of the phone user and others and to take into account variations in age and health, individual sensitivities and environmental conditions. European standards provide for the amount of radio frequency electromagnetic energy absorbed by the body when using a mobile phone to be measured by reference to the Specific Absorption Rate (SAR). The SAR limit for the general public is currently 2 watts per kilogram averaged over 10 grams of body tissue. Your Sharp mobile phone SAR value is 0.638 watts per kilogram. This has been tested to ensure that this limit is not exceeded even when the phone is operating at its highest certified power. In use however your Sharp mobile phone may operate at less than full power because it is designed to use only sufficient power to communicate with the network.
Declaration of conformity