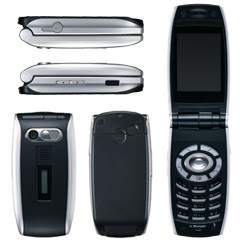 Note: Design and specifications are subject to change without prior notice.
操作說明書
規格
Camera: 310K (VGA) CMOS Camera, with 4 stage digital zoom, mobile light and delay timers.
Display: Ultra-high resolution QVGA 240x320 dot, 262k-colour TFT LCD.
E-mail client: POP3 E-mail client for sending and receiving mails.
Sound: 40 chord polyphonic ring tones.
Style: Sleek lines, stunning form factor with an internal antenna.
Bluetooth®: Support for File Transfer from PC or Bluetooth Mobile, Serial Port, Dial Up Networking, Headset & Carkit.
Phonebook: vCard Support
Calendar: Schedule alarm, Calendar Support
Other features: USB And IrDA Compatible, Idle screen calendar, full screen camera viewer. Tri-band.

| | |
| --- | --- |
| 310k VGA CMOS Digital Camera | ○ |
| Tri-Band | GSM 900,1800,1900 |
| 262k colour QVGA TFT LCD | ○ |
| Bluetooth® V1.1 (Voice & Data) | ○ |
| 2.1MB Memory | ○ |
| Java™ | ○ |
| USB/IrDA Compatible | ○ |
| WAP, MMS & GPRS | ○ |
| PC-link | ○ |
| Weight | 90g |
| Size | 23.5 x 92 x 46mm |
| Built-in flash for night shots | ○ |
| Handset manager software | ○ |
| Internal Antenna | ○ |
附件

XN-1BT30
備用鋰電池
鋰離子電池
容量: 780mAh
尺寸: 35.8 (寬) x57.9 (深) x4.5 (高) 毫米
重量: 19克


包括:


用戶手冊/注意事項
軟包

XN-1CL30
車載充電器
連接車內點煙器的電池充電器
輸入: 12V/24V
輸出: 5.2V 500mA
重量: 115克


包括:




手冊


XN-1DC30
USB數據電纜
手機用調制解調器電纜
長度: 800毫米
電腦接口: USB

包括:




手冊


XN-1ER20
耳機麥克風(Mono)
帶開關裝置的耳機麥克風
長度: 1200毫米

包括:




耳機墊


XN-1QC30
AC充電器
3插腳(UK插頭)
輸入: 110-240V 50/60Hz, 105mA 6.5W
輸出: 5.2V 500mA


包括:




N/A


XN-1QC31
AC充電器
兩孔(歐洲式插頭)
輸入: 110-240V 50/60Hz, 105mA 6.5W
輸出: 5.2V 500mA


包括:




N/A


XN-1QC32
AC充電器
兩孔(海洋式插頭)
輸入: 110-240V 50/60Hz, 105mA 6.5W
輸出: 5.2V 500mA


包括:




N/A
注意:可選的附件可能根據地區不同。
合格聲明