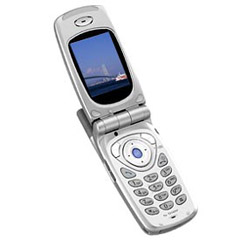 Note: Design and specifications are subject to change without prior notice.
Can I answer a call without opening the handset when using the supplied Personal Hands Free kit.
It is possible to answer an incoming call when the hands free earpiece is connected by pressing either of the volume control keys located on the side of the GX10 / GX12 / GX-i98 / GX13. This information and other call answer tips are detailed on page 21 of the User Guide.
I want to get more games.
To download games direct to the GX10 / GX12 / GX-i98 / GX13, navigate to M-3-1-4, press select to access the Mobile Internet.
Java™ application/Game can not be downloaded.
If one of the following messages are shown then the Java™ application can not be downloaded:


MMS sound attachments appear not to play when sent from some other manufacturers handsets.
When receiving an MMS messages with sound attachments from other handsets with MMS capability (Nokia 7650 and 7210 (tbc), Panasonic GD87, Ericsson T68i and T300), the sound will not be played as currently the GX10 / GX12 / GX-i98 / GX13 does not support the file format (using AMR voice codec) used by these handset models. Sound attachments sent from the GX10 / GX12 / GX-i98 / GX13 can be played on all the models.
No sound at the operation of Java™ application.
The audio during the operation of Java™ application becomes silent if the Ringer volume of the Profile is set to the silent. The other audio levels will follow the setting of the Java™ application. The vibration will follow only for the Java™ application setting.
The extractable antenna is broken. Where can I buy a new antenna? Can I repair by myself?
Repair should be handled by a professional. Consult your retailer or Network Operator.
The games that I have downloaded do not work.
Please confirm the source of the download game? The only recognized sites for the GX10 / GX12 / GX-i98 / GX13 are the sites that have been recommended by the Network Operator.
The Java™ application, Picture and Sound can not be stored.
The memory is full. Delete any unnecessary files
What accessories are available for the GX10 / GX12 / GX-i98 / GX13. Can I use only SHARP brand accessories?
Sharp supply Li-ion spare battery (XN-1BT11), Cigarette lighter charger (XN-1CL10), Car Kit holder (XN-1CH11), Data cable (RS232C cable: XN-1DC10). These are available from only from your local retailer and other mobile stores. Sharp is not able to guarantee the accurate performance of GX10 / GX12 / GX-i98 / GX13 with other vender's accessories.