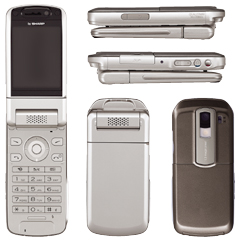 Note: Design and specifications are subject to change without prior notice.
Can I answer a call on the Sharp 802 just by opening it?
No, the Sharp 802 does not support this function.
Is it possible to assign a MP3 as a ring tone?
Only MP3 ringtones downloaded directly to your handset using WAP from a MP3 ring tone provider that support the Open Mobile Alliance DRM 1.0 Forward Lock mechanism will work. This is to prevent any possible breach of copyright.
What is the maximum length of a video recording?
This depends entirely on the available memory of your SD card. The more available memory, the longer the video clip will be.
When I try to delete entries from my Sharp 802 it asks for a handset code.
This is for added security. The code you need is 9999, unless you have changed it.
When playing back video clips the audio was interrupted.
When using the zoom function during recording, the optical zoom works initially, then switches to digital zoom. During optical zoom sound becomes mute.