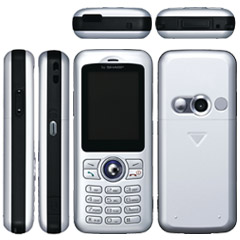 Note: Design and specifications are subject to change without prior notice.
A downloaded game does not work with my GX-L15.
The GX-L15 supports MIDP2.0. MIDP1.0 contents may not be compatible. Please contact the contents provider for more information.
Can I send e-mail from the GX-L15?
Please check that your SIMis enabled to use WAP or check that your WAP settings are correct by contacting your service provider.
I can not start WAP browser.
This depends entirely on the available memory of your SD card. The more available memory, the longer the video clip will be.
I have a GX20 / GX27 / GX20c / GX22/22S / GX-21 / GX23 & GX-E30 data cable, can i use either with my GX-L15?
You can not use the GX20 / GX27 / GX20c / GX22/22S / GX-21 / GX23 data cable, however the GX-E30 data cable is compatible with the GX-L15.
Is it possible to use the GX-L15 all over the world?
The GX-L15 is Tri-band (900/1800/1900 MHz) compatible. Roaming is possible in countries and regions where tri-band GSM frequencies are supported.